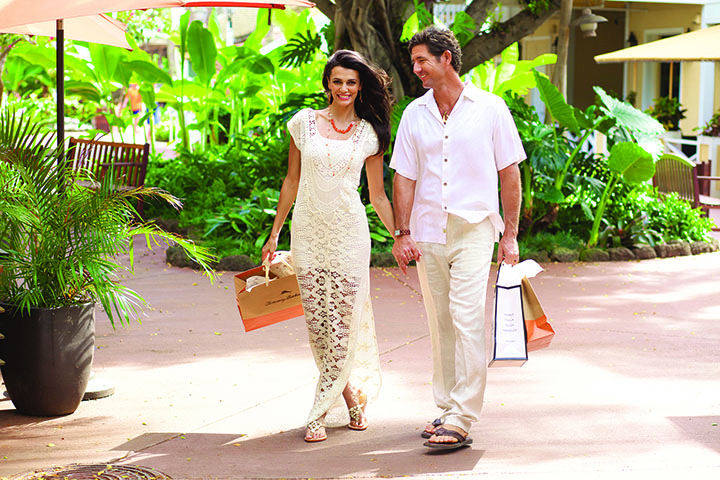 Lightening your wallet's load is easy to do on the south shore of Kaua'i where not only the weather is delightful, but so is the shopping.
The Shops at Kukuiula
The Shops at Kukui'ula is the premiere location to find Hawaiian keepsakes in Po'ipū. At art galleries like Red Koi you'll fall in love with original paintings created by local artists that serve as lifelong reminders of your adventure in paradise. Martin and MacArthur also offers artwork with a wooden flare — products are crafted with koa, Hawai'i's esteemed native tree. The store is also well-known for its koa wood rings, which make ideal symbols of eternal love, especially if you're swapping vows on island.
You'll also find aloha wear and casual surf apparel at this plantation-style shopping center. And if you're on a budget but still want something that reminds you of the surf and sand, check out SoHa Living with its beachy home décor. Ladies with a penny-pinching taste for fashion might also like to explore Mahina with its casual sundresses and inexpensive jewels, perfect for a day at the beach or an evening under the stars.
Poipu Shopping Village
Another mall you might like to check out on the south shore is Po'ipū Shopping Village. Fish Eye Kaua'i is an example of a local gallery you'll find here, featuring photos of marine life by "Scuba Tom," as well as handmade jewelry and original paintings. You can also delight in a treasure trove of stores with Hawai'i inspired t-shirts and gifts that make great souvenirs.
Resort Shopping in Poipu
Don't forget, nearly every resort along Po'ipū Road also offers some kind of retail outlet. Grand Hyatt Kaua'i Resort, for example, has a tiny boutique at its famed Anara Spa. You wouldn't think to stop here but the clothes, scattered on just a few racks, are fashionable with some made by local designers. This is also one of the few spots you'll find brand name nail polish, as well as fragrant facial and body products.
Spouting Horn
Another unexpected location to discover keepsakes is Spouting Horn. You could be pleasantly surprised at some of the jewelry that vendors sell here. While most of the products aren't from Hawai'i, you might still encounter a tropical treasure. And if you walk across the street to the National Tropical Botanical Garden's South Shore Visitors Center, you may find even more gifts you love. What's more, by purchasing a trinket here, you're supporting a good cause.
Pop Up Markets
Last but not least, don't forget to check out any markets happening while you're in town, especially during the holidays. They pop up from time to time at various venues and are some of the best places to find locally crafted goods with the same quality you'll find in stores, but at a fraction of the price.