Whether you've got one day or one week, it's easy to make the most of your time on the Garden Isle.
Kauai 1 Day Itinerary
Getting to know the gorgeous island of Kauaʻi in one day is difficult but not impossible, especially if you book a tour that gives you an all-encompassing sneak peek. Helicopters glide over lush mountaintops and cascading waterfalls while boats cruise along the largely inaccessible and thereby, pristine, Nāpali Coast. Learn about more options for "One Day on Kauai," here.
Kauai 2 Day Itinerary
Two full days on Kauaʻi allows you the chance to spend quality time on opposites sides of the island. The ideal place to stay would be somewhere central like Kauai Marriott Resort in Līhuʻe. You always have the option to book a tour but in order to fully embrace the polar opposite sides of the island, you'll need a rental vehicle. Spend a day traveling north where you can stop at fresh fruit stands and witness glorious vistas while taking a quick dip in Hanalei Bay. Spend the next day cherishing sunny Poʻipū while snorkeling and capping off the evening by dining at a local eatery and shopping for keepsakes.
Kauai 3 Day Itinerary
Three days is perfect for a quick island hopping experience. This extra day affords the time to take a trip up to Waimea Canyon and Kōkeʻe State Parks. Waimea Canyon is a miniature version of the Grand Canyon, smack dab in the middle of the island. To get there, however, requires a journey to the Westside of the island and an approximate 3,600-foot climb in elevation. Before beginning the trek, stop at the small, charming town of Waimea and pick up something to eat for a picnic under the Hawaiian redwoods in Kōkeʻe. Or, the more adventurous can pack something to take on a hike like the Canyon Trail and have lunch atop Waipoʻo Falls.
Kauai 4 Day Itinerary
Four days on Kauaʻi calls for two solid days on each side of the island. This can mean anything from hiking the Kalalau Trail to Hanakapiʻai Beach (whether permitting) and lazing at Hāʻena Beach on the North Shore to roaming the Alakaʻi Swamp Trail in Kōkeʻe State Park and unwinding at Salt Pond Beach Park on the Westside. While you won't have ample time to explore, you'll definitely have the chance to incorporate different adventures of this nature into your "to do" list.
Kauai 5 Day Itinerary
If you've got five days, consider spending at least two nights one the North Shore in Hanalei or Princeville and two nights on the South Shore in Poipu. That way, you'll have more time to explore each side of the island. Take a surf lesson at Hanalei Bay and journey to the end of the highway at Keʻe Beach to watch the sunset during your North Shore stay. Explore the Māhāʻulepū Coast while staying on the South Shore and make sure to find your way to Polihale or Waimea Canyon for a real Kauaʻi adventure.
Kauai 6 Day Itinerary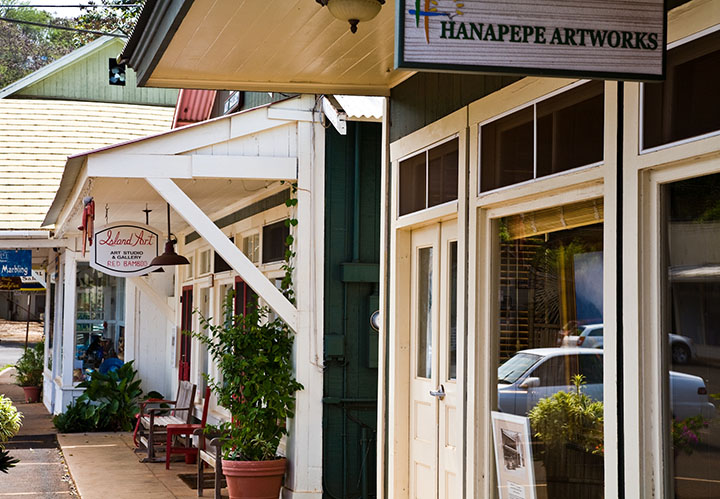 This is where it starts to get fun. You can mix up where you stay on the island to get the most out of your time. You can even stay in one place, as you'll have the ability to easily gain access to different parts of the island with the extra days. You'll certainly want to check out each town like Kapaʻa and Hanapepe along the way to your highlight destinations. In fact, these two spots each have their own art nights — Old Town Kapaʻa Art Walk every first Saturday of the month and Hanapepe Friday Night Festival and Art Walk every week. You'll have the freedom to get more creative and incorporate events like this into your itinerary.
Kauai 7 Day Itinerary
One week on Kauaʻi is an ideal amount of time to get a comprehensive picture of this beautiful tropical island. In seven days, you begin to acclimate to your surroundings and submerge into the local scene. You have a good chunk of time to soak in as many sights around the island as possible and you don't need to limit yourself to one area due to time restrictions. Use your seven days to immerse yourself in each of Kauaʻi's districts — rent a bike and cruise along the Kapaʻa Bike Path, take a historic tour of Waimea and sample the tropical flavors at a farmers market in Hanalei. These extra days will even allow you to partake in activities like kayaking the Nāpali Coast, horseback riding along on the South Shore or ziplining through the rainforest.
Whatever you choose to do with your time on the Garden Isle, no matter how brief it is, it will leave you with lasting memories. And no one will judge you if you decide to just plant yourself in one spot the entire time, splash in the ocean, drink mai tais and soak in the sun.