There are a number of black sand beaches in Hawaii, with seven famous black sand beaches located on Hawaii Island and one famous one on Maui.
Because they're formed by black lava flows (i.e., volcanic eruptions), black sand beaches are often not safe for swimming, and they can be a little difficult to get to, with rocky trails, crowded parking lots, and entrance fees.
Punaluu Beach and Richardson Ocean Park outside of Hilo are the most accessible and family-friendly black sand beaches in Hawaii. Others, like Kaimu Beach, Kehena Beach (aka Dolphin Beach), and Pololu Valley promise more adventure off the beaten path as well as gorgeous views.
Black sand beaches are formed when black lava from a volcanic eruption travels all the way out to the ocean. As the molten hot lava hits the water, it explodes into small micro-particles, sometimes forming a black sand beach overnight.
Black sand beaches aren't forever, though, as the sand won't get replenished if it's washed away by storms or strong currents. This is why you're not allowed to remove black sand from Hawaii's beaches. Likewise, some black sand beaches are known for sea turtle sightings.
Be sure to keep a healthy distance—the State of Hawaii says to stay at least 10 feet away from the treasured honu.
Table of Contents
Which island has the best black sand beaches?
Seven black sand beaches have been formed by the Kilauea volcano on Hawaii Island. This makes Hawaii Island the best island for visiting black sand beaches.
However, if your travels bring you to Maui, instead, you'll find one famous black sand beach there, as well, and a number of smaller, sometimes unnamed, gray and black sand beaches scattered around the island. There are no black sand beaches on Oahu.
Big Island "Hawaii Island"
Punaluu Beach
Family friendly
Facilities (restrooms, picnic tables)
Lifeguards
Wildlife
Photo-worthy
Punaluu Beach is located between Naalehu and Pahala on the southeastern Kau Coast of the Big Island. Easy to get to, with beach park facilities like restrooms and picnic tables, it's a great place to go with the kids for a picnic lunch while you enjoy the feeling of black sand between your toes.
While there may be lifeguards on duty, this is not really a beach for swimming. However, honu, or sea turtle, sightings are common.
Be sure to maintain a distance of at least 10 feet from them and don't ever touch them, as doing so can cause the turtles to develop infection and serious illness. Pets are not allowed on the beach.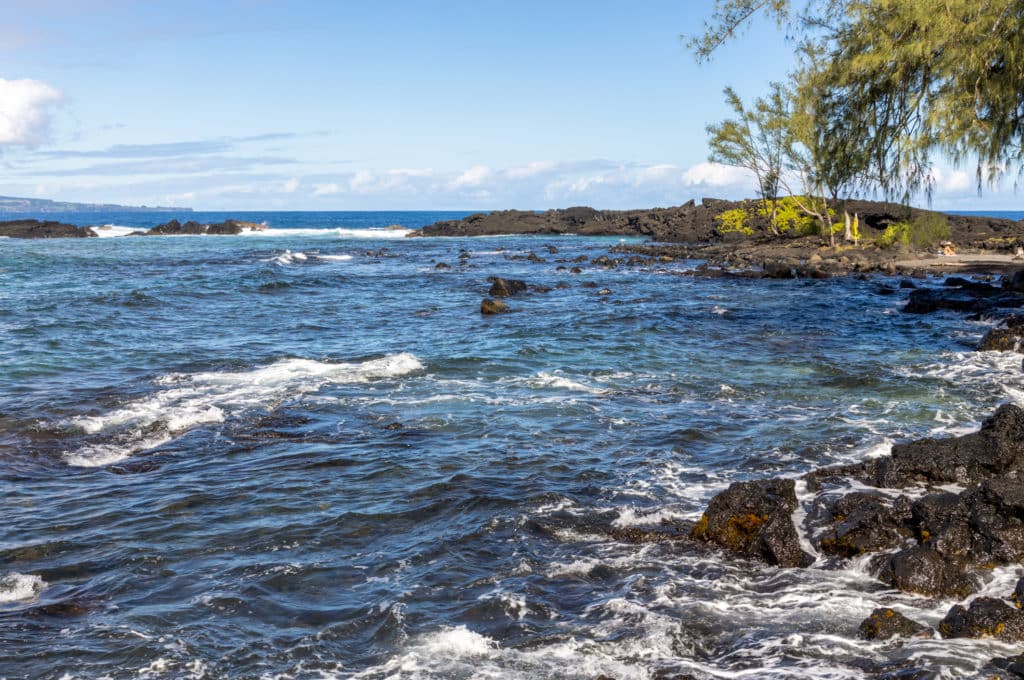 Richardson Beach
Family friendly
Facilities (restrooms, picnic tables, showers)
Lifeguards
Good for swimming
Wildlife (Marine Conservation Site)
Photo-worthy
Close to Hilo
You'll find this family friendly black and green sand beach in Richardson Ocean Park on the outskirts of Hilo. It's the best spot for snorkeling on this side of the island, as it's a marine conservation site (so no fishing).
Fed by the ocean as well as freshwater reserves, the water here is shallow, clear, and almost current-free. There are also tide pools for the kids.
The beach park has picnic areas, showers, restrooms, and over 30 parking spots right off Kalanianaole Street. It is popular on the weekends with tourists and locals alike but if it's full, there is a string of other beaches close by.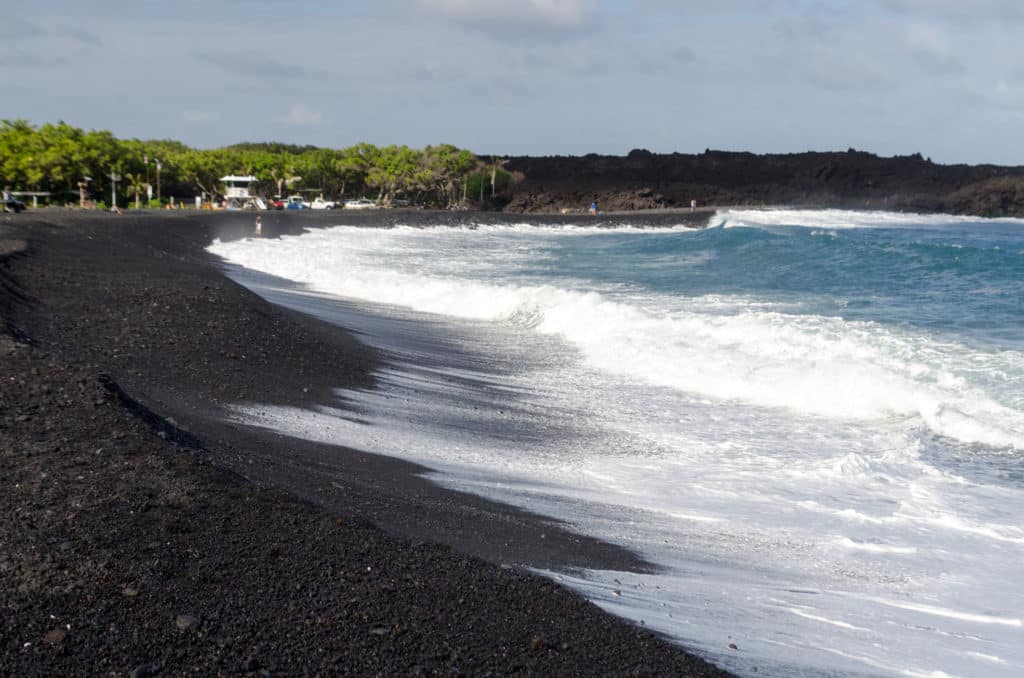 Pohoiki Black Sand Beach
Family friendly
Hot Springs
Photo-worthy
An hour drive from Hilo
Pohoiki Black Sand Beach is part of the Isaac Hale Park on the Puna Coast, 26 miles and about an hour drive from Hilo. It's just slightly up the coast from both Kaimu and Kehena Beaches.
Although the park has been around for years, the black sand beach only came into existence during the 2018 Lower East Zone eruption. Following the 2018 eruption, camping is no longer allowed.
Access is easy, with parking available near the old boat ramp. The beach is only a few steps away. About 100 feet inland from the shore, you'll also find freshwater thermal ponds that have collected in old lava tubes and are said to have healing properties.
There are also warm to hot ponds along the black sand beach, and adjacent to the old boat launch and lava flow.
The warm ponds make Pohoiki a good destination for families, even those with kupuna (elders), babies, and small children. It can also be good if you have a more romantic excursion in mind.
Because bacteria can grow in the warmer waters, visitors with open cuts or wounds should not bathe in the thermal ponds.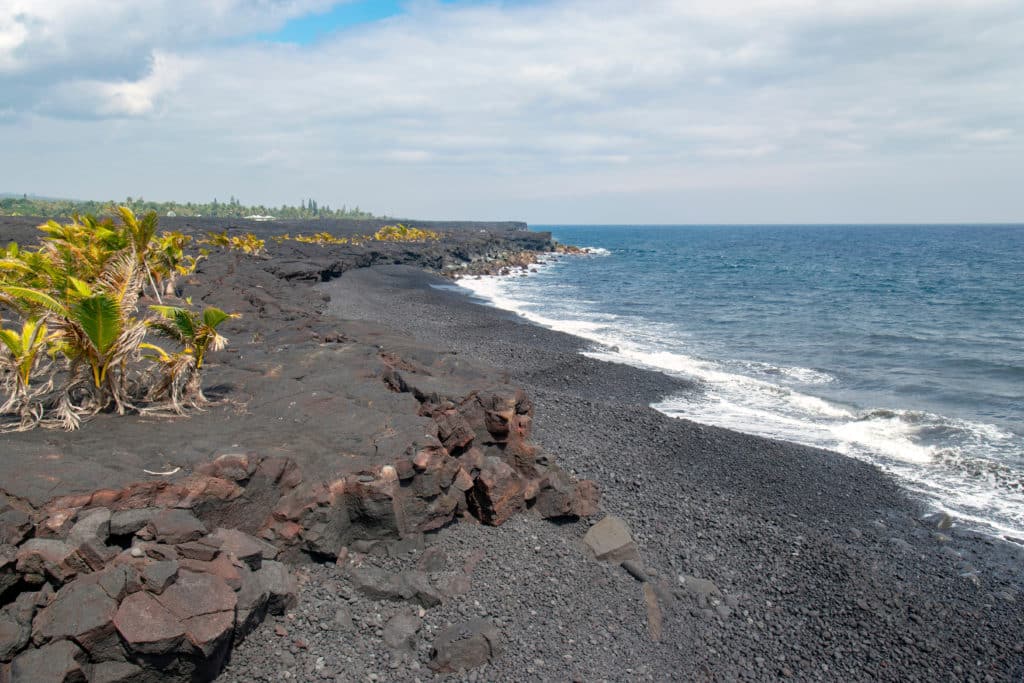 Kaimu Beach
Photo-worthy
Easy day trip from Hilo
Kaimu Beach is located in Kalapana on the Puna Coast, making it an easy day trip from Hilo. It's a relatively young beach, only just formed by the 1990 Kilauea eruption.
To get there, park in one of the parking areas near the Kaimu Korner Country Store. From there, it's a 10-minute walk along a black sandy trail down to the coast.
This is really a beach for those who want to appreciate the recent geologic history of the islands and our relationship with nature. It's stunning to see the expanse of black lava, sometimes 70 feet across, at Kaimu Beach.
This is not a beach for swimming or snorkeling, though, and there's no shade to be found. So, be sure to bring sun protection and consider going earlier in the morning to avoid the heat.
Kehena Beach (Dolphin Beach)
Swimming
Wildlife
Hike in
Clothing Optional
Close by Kaimu Beach on the Puna Coast is Kehena Beach, also known as Dolphin Beach for the spinner dolphins that frequent its waters. This is also a clothing optional, or nude, beach, so be forewarned.
To get to Kehena Beach, you'll have to traverse a steep path down the cliff off of Highway 147, aka Kalapana-Kapoho Road. Once at the bottom, be careful of strong waves coming in where the trail meets the shore.
This narrow strip of black sand is really picturesque, with trees lining the beach and providing shade. Swimming is allowed, but exercise caution as currents can be strong.
Pololu Valley
Swimming
Wildlife
Hike in
Photo-worthy
At the end of Highway 270 in North Kohala, the black sand beach at the mouth of Pololu Valley is accessible to adventurous visitors via a steep, 25-minute hike.
Start at the small, 10-car parking lot at the Pololu Valley Lookout and follow signs for the Awini Trail descending down 300 feet over half a mile to the valley floor and the beach. Along the way, take in the verdant cliffs and dramatic coastline. You may even pass a few wild horses grazing on the hillsides.
Although Pololu Valley boasts beautiful views, the waters are unsafe for swimming and there are no lifeguards. Note that there are also no bathrooms or facilities at the Overlook and often no cell service, either, even in the parking lot.
Waipio Valley (Closed to Public)
Swimming
Wildlife
Hike in
Photo-worthy
Bathrooms
The historic Waipio Valley is located on the northern Kohala coast of the Big Island, 60 miles and one and half hourʻs drive from Kona and 50 miles and a one-hour drive from Hilo.
Most visitors stop only to admire the valley and the black sand beach from the lookout 800 feet above the valley floor. Bathrooms and a few picnic tables make this a good spot to take in the breathtaking views of the narrow valley, black sand beach, and coastline.
There are a handful of steep steps and a longer, flat path down to the lookout and facilities. Overall it's a good, small spot for more mobile visitors, including children, to picnic and run around. There's little formal parking, with only 4 or 5 cars able to fit in the lot. Find a spot, instead, on either side of Honokaa-Waipio Road.
The Waipio Valley Road going down to the valley floor and beach was closed to everyone except valley residents in February, 2022, to assess and mitigate the road's conditions.
When it reopens, traveling down the steep mountain road will still require a 4-wheel-drive vehicle (most car rental companies explicitly prohibit driving down to Waipio).
It is not currently possible to hike down on foot, either, given the 45% grade in some places, which can be slippery and tough on the knees. But even then, of course, after you were finished seeing the sights, youʻd have to hike back up!
For more fit and adventurous visitors, Waipio has been a special destination, with a dark (not completely black) sand beach bisected by 20-foot-wide Wailoa Stream.
Although there are no facilities, camping, picnicking, and hiking up the opposite side of the valley wall have been allowed here. Wild horses wander the forest along the beach and there are spectacular waterfalls along the valley walls.
Papakolea Beach (Green Sand Beach)
Papakolea is actually a green sand beach, made up of millions of crushed pieces of volcanic olivine. It's only one of two green sand beaches in America!
This is only a beach for the more adventurous visitor. Getting there requires a 2.5-mile hike that's best done in the early morning to avoid the heat. There's no shade on the way and the path can be rocky, so be sure to bring plenty of water, sun protection, and suitable shoes.
The surf on the southern shore is notoriously rough and there are no lifeguards on duty at Papakolea Beach. It's likely that the surf will be pounding so hard you won't be able to go into the water at all. But the crystalline green sands are something most people will only ever have the chance to see once in their lives, if at all.
To get to Papakolea Beach, drive to the southern most point of Hawaii Island along South Point Road (between mile markers 69 and 70 on HW-11/Hawaii Belt Road) and park all the way at the end, at the Kaulana Boat Ramp. From there, follow the dirt road along the coast until you reach the green sand beach.
Maui
Waianapapa State Park
Family friendly
Facilities (restrooms, picnic tables, showers)
Lifeguards
Photo-worthy
*Reservations required*
Waianapapa—which means "glistening waters"—is Maui's most famous black sand beach, located in Hana and boasting fine black sand, black lava boulders, sea arches, a sea cave, and even a lava tube that goes right down to the ocean.
To get there, you'll have to drive to the end of the famous road to Hana, more than a 2-hour drive from central Kahului and Kihei along the north side of the island.
As of March, 2021, non-Hawaii residents also pay a $5 fee for entry and $10 to park. Reservations are required and can be made on the Go Wainapana website.
Unlike many of the black sand beaches on Hawaii Island with only rugged access, Waianapapa is ADA and easily Accessible. Itʻs also open for camping by permit and cabins are also available for rent.