How would you like to sink your teeth into sweet, succulent pineapple or mango grown from Kaua'i soil? You might be lucky to find locally-grown produce in supermarkets but your best bet is to find fresh fruits and veggies at one of the many farmers markets around the island.
Farmers gather at different markets every day of the week except Sunday on Kaua'i. They sell everything from beans and lettuce to flowers and papayas. You can even sip the water of an ice-cold coconut and have it opened for you afterwards to enjoy the meat inside at plenty of these markets. Not only is it a rewarding experience to eat locally-sourced food, it is one of the best ways to support Kaua'i farmers and help keep the island as sustainable as possible.
Kaua'i Community College Farmers Market in Lihu'e
One of the largest weekly farmers' markets, also boasted as one of the best, is located at Kaua'i Community College in Lihu'e. The market starts at 9:30 a.m. and closes at 1 p.m. which gives people plenty of time to stop by on their weekend. While it is always wise to go as early as possible to get the best selection of food, this market also has a nearly endless supply of other edible items like honey, dried bananas, coffee and nuts. There are even food trucks here if you want to enjoy a smoothie or lunch made with farm fresh ingredients.
Culinary Market at The Shops at Kukui'ula in Po'ipu
Another farmers market that offers a rich mix of food including pasta, soup and pies is the Culinary Market at The Shops at Kukui'ula in Po'ipu. The market occurs every Wednesday from 4 to 6 p.m. and there is even a Wine and Beer Garden where you can watch a local chef create cuisine while listening to live music.
Hanalei Farmers' Market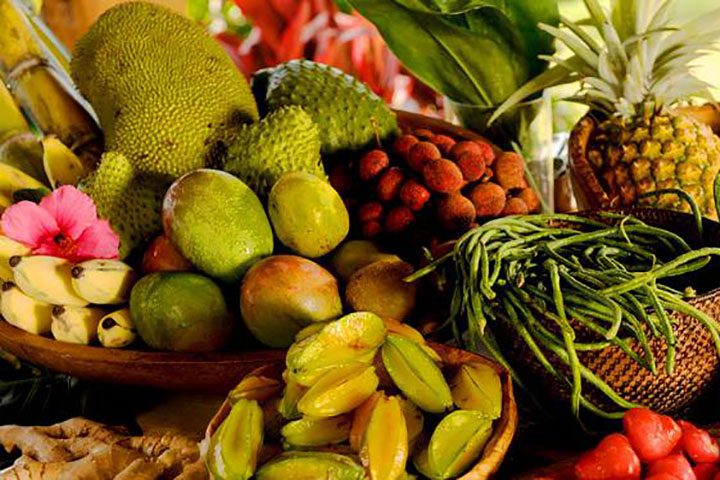 The Hanalei Farmers' Market (HFM) occurs every Saturday, 9:30 am to 12 noon on the beautiful grounds of Hale Halawai 'Ohana O Hanalei (Hanalei's Community Center) which is located behind Hanalei Poi and close to the much photographed little green church, Wai`oli Hui`ia Church. There is a soccer field between the church and Hale Halawai. HFM currently has 23 farmer vendors who offer an abundant variety of fresh produce, including lots of organic lettuce. Some of the farmers also offer fresh juices (mango, lilikoi, soursop), specialty breads (banana, mango), goat cheese, chocolate covered bananas, microgreens, herbs, organic fruit leathers and teas, natural health supplements/remedies and much more. A few farmers offer fresh cut coconuts and big vibrant bouquets of cut flowers. HFM has five wonderful food vendors who are very popular with market visitors: Waring Bali, Po'okela Sausage Co. (locally sourced meat), Tambor Acai, Lighthouse Kombucha and Dave's Breakfast Burritos. The market also has approximately 25 artisan vendors who offer a diverse array of beautiful and unique Kauai made items including jewelry, clothing, hats, stationary, carvings, paintings, lahala baskets, tapa cloth, photography, wood art, puzzles, soaps and more. We have a Hanalei Farmers' Market booth set up at the entrance that features iconic HFM merchandise for sale. All proceeds from sales help support Hale Halawai 'Ohana O Hanalei (Hanalei's Community Center). HFM staff greets market visitors as they gather around the entrance prior to the start of market and then welcome them with lots of aloha into the market at 9:30. Parking is provided for visitors around the soccer field (not inside) with ample ADA parking. HFM team members help direct customers to the best possible parking space.
Namahana Farmers Market in Kilauea
Many of these markets are independently hosted and have arts and crafts for sale as well like the Namahana Farmers Market at Aniana Hou Community Park in Kilauea on Mondays and Saturdays.
Kaua'i Sunshine Markets
There are also Kaua'i Sunshine Markets presented by the county that, while they don't have as wide of a selection and mostly consist of produce, are great options if you happen to be in the right place at the right time. Find times and locations here: kauai.gov/Kamaaina/SunshineMarkets/tabid/214/Default.aspx.
Just ask your concierge or any kama'aina (local resident) to help direct you to the most optimal farmers market to suit your needs.