In addition to breathtaking views and cultural activities, Hawaii has much to offer in the way of shopping. On Oahu alone, there are a variety of shopping centers built to suit your needs, whether that be unique local items for yourself or souvenirs for your loved ones. It's even common for locals from outer islands to fly to Oahu just for its exciting array of shopping options. Below is a list of shopping centers to explore.
Shopping at Ala Moana Center
Thanks to Hawaii's tropical climate, Ala Moana is the world's largest outdoor shopping center. It is more than just a shopping center, however, as it has both an entertainment area and about 70 dining options. At any given day you can expect to see a performance there, either by authentic local hula dancers or visiting orchestras, all adding up to over 500 events per year. Ala Moana Center is where you can take the whole family because with over 290 stores, there truly is something for everyone. From Coach to Forever 21 to the Lego store, Ala Moana Center is your one-stop shop.
Shopping in Waikiki
Waikiki's Kalakaua Avenue is chock full of shopping options. Walking the strip, you'll be able to step into big name brands like Prada and Gucci, to name a few. Head into the Waikiki Shopping Plaza on 2250 Kalakaua and you'll find even more big brands, like A/X Armani Exchange and LeSportsac, as well as a variety of smaller boutiques. You can even shop duty free in Waikiki at the DFS T Galleria on 330 Royal Hawaiian Avenue, which houses brands like Burberry and Dior.
One of the largest shopping spots and a must-visit in Waikiki is the Royal Hawaiian Center. It is four levels high and spans three blocks of the Waikiki strip. It boasts more than 110 shops and restaurants and is the perfect place to get lost in a shopping coma.
Shopping at Ward Village
Ward Village is a great place to check out smaller local boutiques as well as pick up souvenirs. It consists of five different clusters of shops, all within short walking distance from each other. It houses a total of 135 stores, many of which are unique to Hawaii, such as Red Pineapple, which specializes in custom gift baskets. With the help of its friendly workers, Red Pineapple will help you pick items that are unique to whomever the gift basket is for, from quirky birthday cards to luxury items like artisan soaps and lotions.
Nearby is Happy Haleiwa, an adorable boutique named after Haleiwa town in the North Shore of Oahu. Happy Haleiwa could be described as the most kawaii (which means "cute" in Japanese) store in Ward shopping center. Happy Haleiwa is where you'll go if you're looking for something feminine (after all, their logo is a pigtailed little girl). Things like pink t-shirts and pink chocolate, little tote bags with cheerful phrases, plush toy keychains, canteens with hearts on them, etc. It is the sugar-on-top version of conventional souvenirs.
Shopping in Chinatown
Chinatown is home to some truly unique boutiques in Hawaii, and luckily most of them are in close proximity to each other. Fighting Eel on 1133 Bethel St. is a simple and sexy clothing company that is popular among local women. Owens & Company on 1152 Nuuanu Ave. offers a curated collection of handmade merchandise from independent designers, such as tasteful clothing and cards. Pretty much every corner you turn in Chinatown holds a shopping possibility.
Shopping in Kailua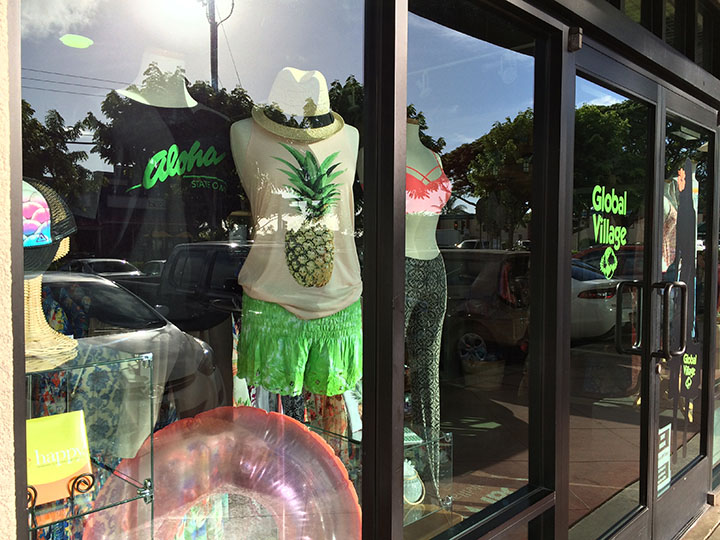 After soaking in the sun at Lanikai beach, check out the lovely boutiques that make up Kailua's shopping scene, such as Olive Boutique on 43 Kihapai St., which carries a variety of beach chic essentials like clothing and jewelry. There's also Mahina on 539 Kailua Rd., which is perfect for breezy sundresses and subtle-yet-striking accessories. Its Maui location was voted "best boutique" for seven years. Right next door to Mahina is Global Village, carrying creative Hawaii-themed designs. Kailua is also home to one of Oahu's last standing bookstores, Bookends on 600 Kailua Rd. Bookends carries both new and used books for people of all ages.
Shopping at the Aloha Stadium Swap Meet
Located at 99-500 Salt Lake Blvd. in Aiea, the Aloha Stadium Swap Meet is only 20 minutes away from Waikiki and offers rows and rows of over 400 local merchants. The swap meet is ideal for souvenirs because it features a variety of made-in-Hawaii products like woven bags with Hawaiian prints on them, affordable aloha wear and various other Hawaii-themed trinkets.