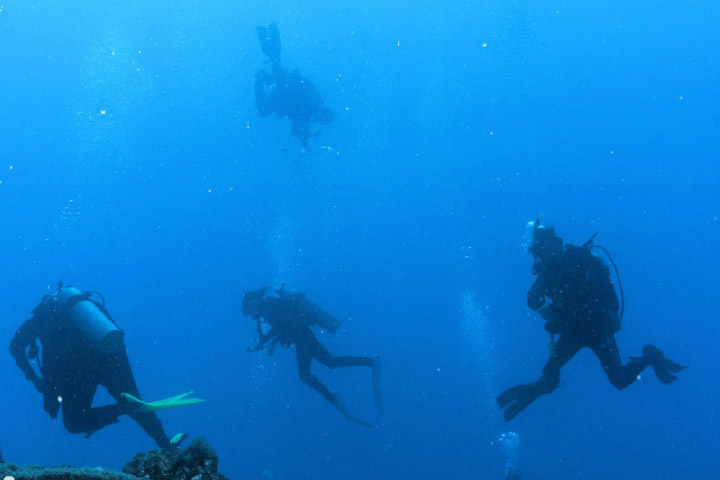 Beneath the waters that lap at Kauai's shores is a teeming marine environment with a rich store of secrets available only to folks who find ways to get down under. Here scuba divers will find living coral reefs, sea caves, large varieties of exotic fish and sea turtles.
Water temperatures range from 72 degrees in winter to the low 80s in the summer, and visibility is generally good.
Here's a roundup of some of the most popular and accessible diving sites on Kauai.
Sheraton Caverns
Sheraton Caverns, off Poipu, known for its mythical ledges that start at 30 feet and go as deep as 60 feet. There are caverns under most of the ledges where turtles, sharks and eels reside. This spot is considered by many to be the No. 1 diving site on the island for its abundance of fish.
Black Mountain
Black Mountain, near Kipu Kai on the southeast side of the island. The area is subject to strong tradewinds, but when the winds slacken, it offers some of the best visibility with large amounts of lobster and plenty of fish.
Aquariums
Aquariums, near Nawiliwili, is a great and easy shallow dive spot approximately 30- to 60-feet in depth with ledges that start at 10 feet. There are lots of big boulders in this region and it's home to many octopus and lobster.
Brenneckes Ledge
Brenneckes Ledge boasts two big caves and rare black coral growing under ledges. This spot is considered a must for South Shore diving. The ledges start at 50 feet descending 90 feet to the ocean floor where large varieties of fish abound.
Dive Spots Accessible from Shore
Other good snorkeling and SCUBA spots that are accessible from shore without a boat include Tunnels on the North Shore, the Beach House in Poipu and nearby Koloa Landing.
Niihau
If you're into hard core diving, you'll want to take a dive charter to Niihau. You're likely to see an abundance of marine life and birds and some fish native only to this area. The area is home to the endangered Hawaiian Monk Seal, big Hammerhead Sharks, White Tip Sharks and Manta Rays. Water clarity is generally excellent and wide varieties of coral can be seen.