Great news for visitors vacationing in the Valley Isle, making magical memories in Maui doesn't have to mean breaking the bank. As well as boasting beautiful, stunning scenery, this Hawaii enclave also offers accommodations that won't leave you with sticker shock. Listed below are our top picks for Maui best value hotels, each with 3-5 star ratings, and offering affordable rooms, with amenities included, at less than $200/night.
Kaanapali Beach Hotel
Often called "Hawaii's Most Hawaiian Hotel," Kaanapali Beach Hotel boasts no resort fees, but comes with countless amenities and local cultural activities to boot. Whether staying in a suite with an ocean, garden, or pool view, the picture perfect paradise of Hawaii awaits right outside your window. Located on the island's pristine Kaanapali Beach, guests here may enjoy daily hula shows, as well as dinner theatre performances and even lei making! Relax and unwind, and learn a bit about the beautiful Hawaiian history while you are at it!
Royal Lahaina Resort

Located on the most exclusive part of Kaanapali Beach, Royal Lahaina Resort promises no resort fees, free wifi, and best price guarantee when booking directly through their website. Choose from a beachside cottage, tower room with an outstanding view or various well appointed suites. Royal Lahaina Resort regularly offers hot deals and specials to make your stay on Maui that much sweeter.
Maui Seaside Hotel

Maui Seaside Hotel has somehow found the perfect balance between offering its guests both the best in play and relaxation. Lovely oceanfront Kahului accommodations await, alongside the resort's close proximity to Hookipa Beach, Iao State Park, golf at Maui Lani, and other exciting island activities. And the hotel's no resort fee policy just serves to sweeten the deal.
Aston Maui Kaanapali

Perched upon 11 acres on pristine grounds, Aston Maui Kaanapali offers its guests accommodations on the most coveted stretch of Kaanapali Beach. Enjoy suites with fully equipped kitchens for your convenience, offering all the comforts of home but with a decidedly resort beauty.
Aston Kaanapali Shores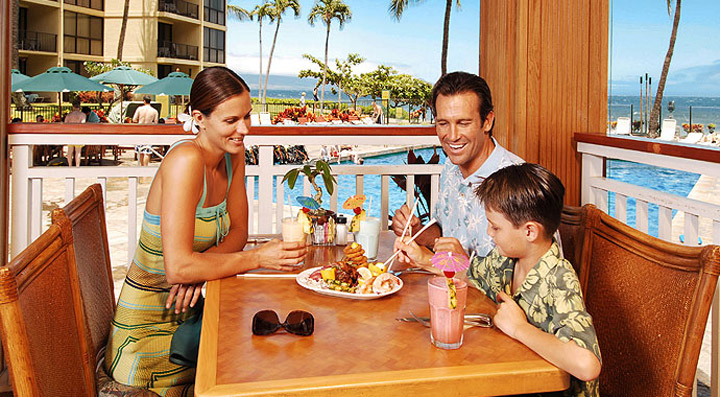 Also located in Kaanapali, Aston Kaanapali Shores is a beacon of beauty, perched upon six acres of idyllic coastline along Kaanapali Beach. While staying among its 463 guest rooms, visitors may play tennis onsite, enjoy the resort's restaurants, and explore local charm in nearby Lahaina, while avid golfers will adore nearby Kaanapali Golf Course.
Aston at the Maui Banyan
Aston at the Maui Banyan, located right across the road from Kamaole Beach Park, features a pair of outdoor pools, a hot tub, and a tennis court. Its rooms, tropically decorated, each boast a private balcony, cable TV, and standard amenities.
Courtyard Maui Kahului Airport

Conveniently located right off the runway, Courtyard Maui Kahului Airport is located a mere 4 miles from Kahalui Airport, and features everything you would need to enjoy your next business trip or vacation. Guests staying here can avail themselves of the hotel's outdoor pool, spacious rooms, complimentary wifi, and more.
Maui Coast Hotel

Maui Coast Hotel makes your island getaway memorable and affordable, offering accommodations in Kihei that are both comfortable and cost-efficient. Stroll across the street to Kamaole Beach, or walk just minutes away to enjoy numerous shopping, dining and entertainment options.
Castle Kamaole Sands

Keep the savings coming at Castle Kamaole Sands, one of the island's most frequented facilities, where families, couples and individuals alike all can find a perfect fit for their next stay in paradise. Guests here may choose among one-, two-, and three-bedroom suites, each overlooking Kamaole Beach Park and featuring a fully-equipped kitchen, private lanai, high-speed Internet, and color cable TV. The hotel also has a wading pool, tennis courts, and more.
Maui Beach Hotel

Saving money just got even more magical with a stay at Maui Beach Hotel, centrally located in Kahului and a mere minutes from the airport. Relax in any of its 147 tropical-styled rooms, each with free high-speed Internet access, cable TV, air conditioning, mini-refrigerator, iron, bathroom amenities and a safe. The hotel also features an onsite fitness center.
Kaanapali Beach Club Resort

Cruise on over to Kaanapali Beach Club Resort and relax in stye without spending too much. Free parking is just one perk to be found among the resort's 413 suites. Also able to be enjoyed are an onsite restaurant and pool bar, outdoor pool, fitness center, and more.
Seen here, a vacation to Maui can be magical AND affordable. E Komo Mai, and enjoy your stay!