Some visitors to Maui just want to go snorkeling, whereas others are all about ziplining, but if there's one activity that everyone on Maui has to do it's eat.
Sure — everyone of course has to eat — but in a place with as many culinary selections and ethnic flavors as Maui, eating is far from a daily chore, but an activity unto itself.
Trans-Pacific Flavors
Because of Maui's plantation past, where workers arrived from around the globe to help grow sugar and pineapple, Maui is blessed with "mixed plate" cuisine of Trans-Pacific flavors. You can find this in everything from poke bowls at Foodland — where the popular meal of raw fish is prepared in dozens of ways — to Korean Style chicken or black bean Chow Fun at a place like Okazuya Deli. Pop in to Home Maid Bakery in Wailuku, and pick up a bag of fresh malasadas all warm and covered in sugar, and taste how the Portuguese passed down the recipe when they sailed all the way from the Azores.
Traditional Hawaiian Food
When it comes to traditional Hawaiian food, for years there were hardly any options for visitors beyond poi and pig at a lūʻau. Lately, however, more places have started to offer Hawaiian-specific menus, and at Poi By The Pound in Kahului, visitors can try out Hawaiian food staples like a plate of steamed pork lau lau and pick up a cube of sweet kulolo to take away as a snack.
Local Favorites
If you've got a hankering for German food, grab a table at Brigit and Bernard's and order up a schnitzel stein or try out Maui's Mexican flare with a seafood burrito at Polli's. Want to try out some local gourmet at a price that won't break the bank? Order up some ʻulu mac salad or chop steak at Tin Roof, a restaurant just minutes from Kahului airport and opened by local boy Sheldeon Simeon, a famous finalist on Top Chef.
Upper Echelon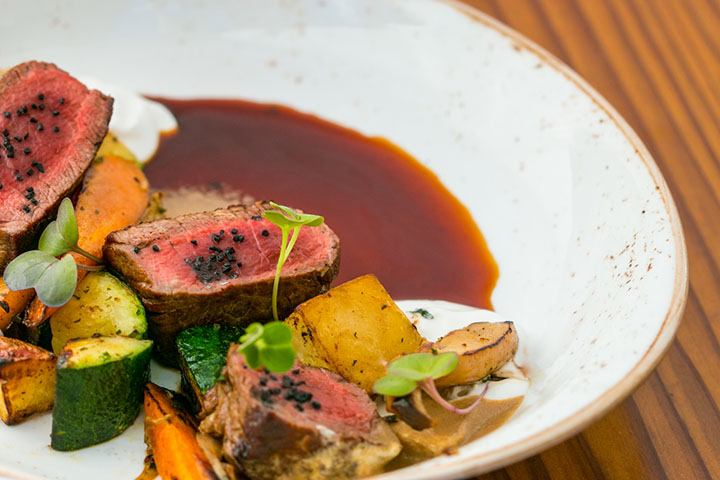 Speaking of Maui's celebrity chefs, self-professed foodies could spend an entire vacation just bouncing between restaurants, as an upper echelon of professional chefs have taken up residency on Maui. The prices are definitely higher, of course, than poke bowls and plate lunch, but when you bite into fish that was caught that morning and topped with locally raised produce or pair some locally grass-fed beef with purple Molokaʻi sweet potatoes, the meal is not only worth the cost, but it also helps support local ranchers, farmers, fishermen and foragers. While island classics include Roy's, Merriman's and Haliʻimaile General Store, there are upstart newcomers like The Mill House in Wailuku and Cane and Canoe in Kapalua, where the best of Hawaiʻi's flavors all blend in a culinary carnival on your plate.
Street Food
Granted, not all visitors to Maui can afford to max out their budget on food, so whether it's stopping for huli huli chicken that's served on the side of the road or frequenting food trucks like Maui Fresh Streatery that specialize in gourmet to go, indulge in Maui's flavorful food scene and try out something new; there's a chance you could find your new favorite dish or a splurge you'll never forget and add another dimension to your trip by eating your way across Maui.