Typically, people don't come to the Big Island for the shopping. They come for the unmatched beauty — seeking out the stark contrast between fields of barren volcanic rock, lush tropical rainforests, black sand beaches and snowy mountaintops.
However, it's the lack of familiar national store chains and outlet malls that make shopping on the Big Island such a unique and fun experience. If you are willing to take the time to explore, island treasures — more than just kitschy coconut tops and gaudy aloha shirts — can be found in towns all over the island.
Shopping on Big Island: Hilo
Hilo is home to the Big Island's only indoor mall, Prince Kuhio Shopping Plaza, anchored by Macy's and Sears, complete with a movie theatre, several local surf shops, small restaurants and other national chain stores.
Downtown Hilo is the best place to go for unique trinkets. You can park and walk, to find Hawaii-made items, including the popular hand-printed Sig Zane aloha wear for men, women and children. Or visit Hanahou, which features island wear and jewelry for women, The Most Irresistible Shop for interesting gifts from around the Pacific, and Naupaka Island Designs for locally made clothing, silk scarves and jewelry. There are also lots of restaurants along the way as well as bookstores, antique shops and a couple of places for shave ice on a hot day.
Shopping on Big Island: Waikoloa
Outdoor malls are favored on the West Side of the island due to the nearly flawless year-round weather. The Kings' Shops at Waikoloa Beach Resort, nearby Queens' Marketplace, and Shops at Mauna Lani, are home to a variety of both recognizable establishments and smaller boutiques. There are lots of fun finds here, but beware of resort pricing.
Shopping on Big Island: Waimea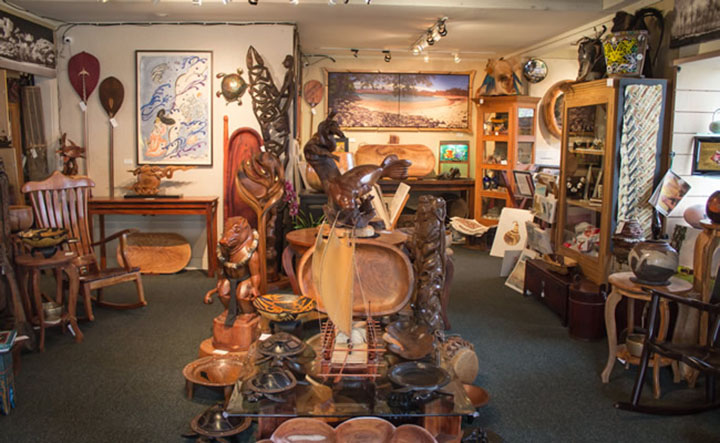 Waimea's outdoor malls, Parker Ranch Center and Parker Square, feature restaurants and clothing boutiques as well as local Hawaiian artisan work. Check out The Gallery of Great Things to see a variety of woodwork, paintings and jewelry created by more than 200 local artists.
Shopping on Big Island: Kailua-Kona
While Kailua-Kona has no indoor mall, it too has several marketplaces, including Coconut Grove, and Kona Marketplace, as well as Keauhou Shopping Center. In the labyrinth of buildings you'll find restaurants, boutiques, coffee shops, and galleries.
Ali'i Drive is another "park and walk" adventure in Kailua-Kona. You can make your way through the multitude of interesting shops peppered between restaurants with a view. Ali'i Gardens Marketplace is also another fun jaunt where you'll find tropical flowers, island crafts and locally grown coffee.
Shopping on Big Island: Hamakua and North Kohala
Smaller towns like Honoka'a (Hamakua Coast), Kapa'au and Hawi (North Kohala) offer limited shopping options. But again, treasure hunters just might find what they never knew they needed. Take for example a place like As Hawi Turns where resort-wear, hand-painted silk and vintage items abound. Or visit one of the many fine art galleries in the remote areas of North Kohala.
Shopping on Big Island: Food Specialties
If what you are shopping for is more of the edible variety, you can find coffee, macadamia nuts, island-grown chocolate and locally made confections all over the island.