Known for its carefree beach community and small-town charming vibe, Kailua, O'ahu, is rich with an abundance of shopping, ocean activities and gifting options.
Suit Up
All the essentials you need for a day at the beach are easily found in Kailua. Prepare for spending several hours in the Pacific Ocean, resting on powder-soft sand or bicycling through the community at beach-inspired boutiques and markets. For the bargain-hunter, Aloha Swim provides a variety of brands and sizes at affordable prices, especially when marked down and on clearance. Modern and unique styles designed to showcase the chic beach girl's figure are at San Lorenzo Bikinis. And swim gear for him and her, made by authentic Hawaiian surf designers, can be found at Hawaiian Island Creations.
Vitamin Sea
From exhilarating water sports to casual snorkeling, no beach day would be complete without getting in the water. Kailua is plentiful with dive shops, surf shops and adventure stops to equip you with water gear. Aaron's Dive Shop offers snorkel sets, scuba equipment and accessories for purchase. Kailua Beach Adventures has an impressive selection of various styles of hats, rash-guards/sun shirts and swimwear. Windward Watersports also provides an array of seaworthy items for rent, including snorkel gear for all ages.
Clothing for Him & Her
There is an abundance of specialty boutiques harnessing the sun-kissed lifestyle of Windward O'ahu. Global Village welcomes a variety of customers from adults to children. You'll find apparel, home decor, keepsakes and specialty gifts for friends and family. For unique, trendy styles and yoga wear, Mahina is well-regarded for its soft, comfortable, breezy sundresses and relaxed clothing for women. Can't decide which store is right for you? Olive (for women) and Oliver (for men) are owned by a husband and wife duo who specialize in clothing and accessories for their respective gender.
Share Aloha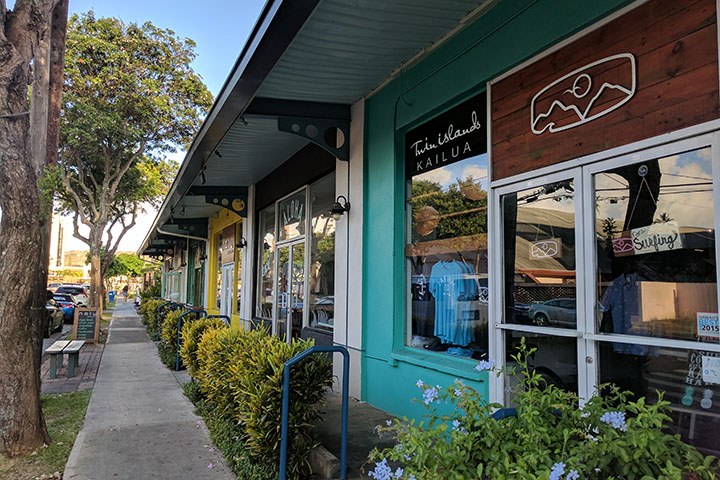 After all the shopping and adventuring, you'll want to grab something to eat. Kailua is replete with fantastic eateries from sandwiches to shave ice and plate lunches to fresh salads. You should take note that some of these stops are also hidden gems to find edible gifts, Hawaiian made treats and collectibles. Kailua General Store is famous for its vintage finds and novelty items. Kalapawai Market is perfect for a quick grab-n-go bite and a well-stocked inventory of Hawaiian blend coffee beans, taro chips and fine wines.
When you get to Kailua, you will see the pace is slower, the activities are meant for exploring and adventuring and the community is bursting with a unique culture all its own.