As a kid in the late 70s, before hiking in Hawaiʻi was quite the popular pastime it is today, I'd run barefoot along a thin trail through dense bamboo jungle and emerge at a towering waterfall where I'd promptly hop into its shallow pool, not another soul in sight. In the following years, because of its proximity to town and its relatively easy terrain and short length, Mānoa Falls Trail became heavily populated with hikers and tour groups that trudged through the pristine rainforest, eroding the path. Almost impossible to skirt around the long swatches of unwelcoming gloppy slush from all that rain and the trudging of all those feet meant no one emerged without a pair of clammy feet that needed to be peeled out of dirt encrusted shoes, and the gunk that splashed up your legs needed some serious soap and scrubbing to remove.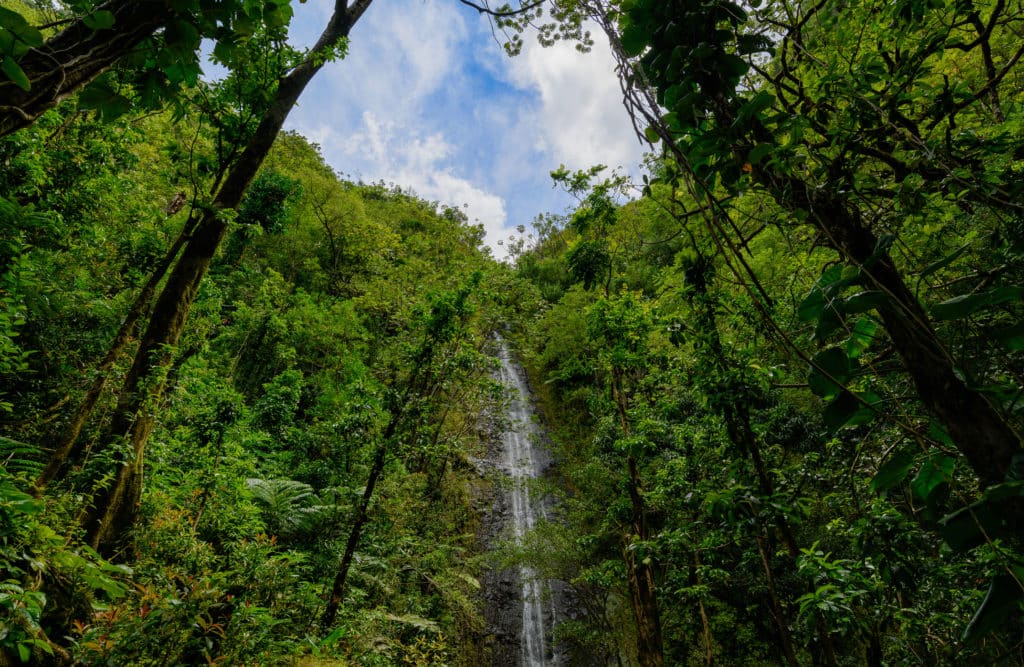 After several years' absence, I brought along a hiking buddy, a barefoot enthusiast ("It's soft and muddy, your feet will love it," I remember coaxing) to revisit my childhood haunt. Boy, were we both in for a surprise.
We had set out on a sunny morning boasting picture-perfect blue skies, but as we parked at the back of the valley, darkly bruised skies crawled over the mountain and we had to wait out a tropical downpour in the car. The fall through spring months bring wetness, but the upside is that it means a heftier waterfall.
We headed out under dripping foliage, my partner tiptoeing along the pebble-strewn asphalt that as you step onto the path quickly turns to large chunks of newly minted gravel, meaning the cut is fresh and sharp. Under hiking shoes, it crunches unobtrusively, but under bare feet the opposite end of the body emits a lot of groaning and yelps. In fact, the entire body kind of curls up, the shoulders hunch over, the knees bend deeper as the face grimaces and the feet quickly take turns popping up as if they'd landed on a hot iron.
I knew the beginning of the trail was kept maintained and laid with gravel, but 10 minutes later my buddy was still wincing with every step. Suddenly we saw a familiar sight approaching us from the opposite direction: A man bent over yelping and gasping as he inched along – his feet naked as the day he was born! We had a misery-loves-company chuckle until he mentioned that the gravel continues right up to the foot of the waterfall. The great news for the rest of us is that the recent "improvement," keeps the trail well-marked and mud-free.
The gravel guides you from the trailhead over a bridge into dense greenery where speckled light filters through the overhang onto the shady path, and even on a hot day breezes sweep through the leaves. Guava and wild ginger sweeten the air and the sound of a gushing brook follows your gradual ascent. When you approach manmade stairs that lead to a boardwalk through a bamboo thicket you're nearly there. By the time you hear the cascade rushing down its steep 100-foot rock face you'll practically be standing in front of it. A cable now keeps visitors several feet from the pool itself after a massive rockfall in 2002.
Amazingly, only a handful of families trickled by during my leisurely stroll to Oʻahu's most accessible waterfall. For minimal foot traffic and more impressive fall viewing, go when it's rainy. And save the barefoot experience for another trail.
TRAIL: Mānoa Falls Trail
LENGTH: 1.6 miles round trip
HOW TO GET THERE: Take McCully Street out of Waikīkī and turn right onto Kapiʻolani Boulevard. Turn left at University Avenue. Follow University Avenue as it turns into Oʻahu Avenue. At a five-point intersection, veer right onto Mānoa Road. After passing Waakaua Street, find free parking along the final residential stretch of the street. It's a .4 mile walk to the trailhead. Otherwise, continue driving along Mānoa Road and follow the signs for $5 parking on the right hand side. After parking, continue following the road toward the mountain. At a fork, veer right toward a fence with signs marking the Mānoa Falls trailhead.