Every time I drive along the grand, palm-lined entrance to Hoʻomaluhia Botanical Gardens, one word comes to mind: Heaven. The wide throughway is a grand welcome to nature's stateliest majesty. A picturesque lake and walking trails are lead attractions on the 400-acre plot of land, and being a botanical garden, the park is also home to numerous magnificent trees from across the globe, all marked with descriptive plaques. Towering over the garden is the incomparable Koʻolau Mountain Range with its distinctly beveled grooves, like a mammoth accordion.
I've enjoyed the grounds of this Eden countless times, camping overnight in the wide meadows or watching families extend their bamboo fishing poles over the shoreline, while ducks waddle along the lake's edge. However, I had never "discovered" the hiking trails until today.
Parking at the visitor center gives quick access to the lake which branches out into several streams, making for two separate, but joining paths. The first forms a semicircle around the lake and the second is a loop trail bounded by streams. Through the scented air of plumeria trees in thick bloom, I arrive at the rippling, opaque lake waters and turn left to make the leisurely, open and breezy stroll to the far side. Then I turn and trace my steps back, all the while marveling at the large body of water in the middle of this verdant oasis. Through information boards, I learn that the body of water beside me is actually a dammed up reservoir that was dug out in the '70s, meant to save nearby residences from the type of deadly floodwaters that had besieged the area in the '60s.
Back at my starting point, I go right this time and follow signs for the Stream Trail loop. What I encounter is a perfect mini taste of hiking in Hawaiʻi with thin, overgrown trails that run through thickets and into exciting nests of hau tree branches. That lead to muddy stretches where I hop as though on stepping stones to solid areas, or grab onto thin tree trunks trying to sidestep my way past the slosh pit. At one particularly marshy mess, I stumble upon a wild piglet that is as surprised as I am, and darts into the undergrowth as I stifle an involuntary squeal.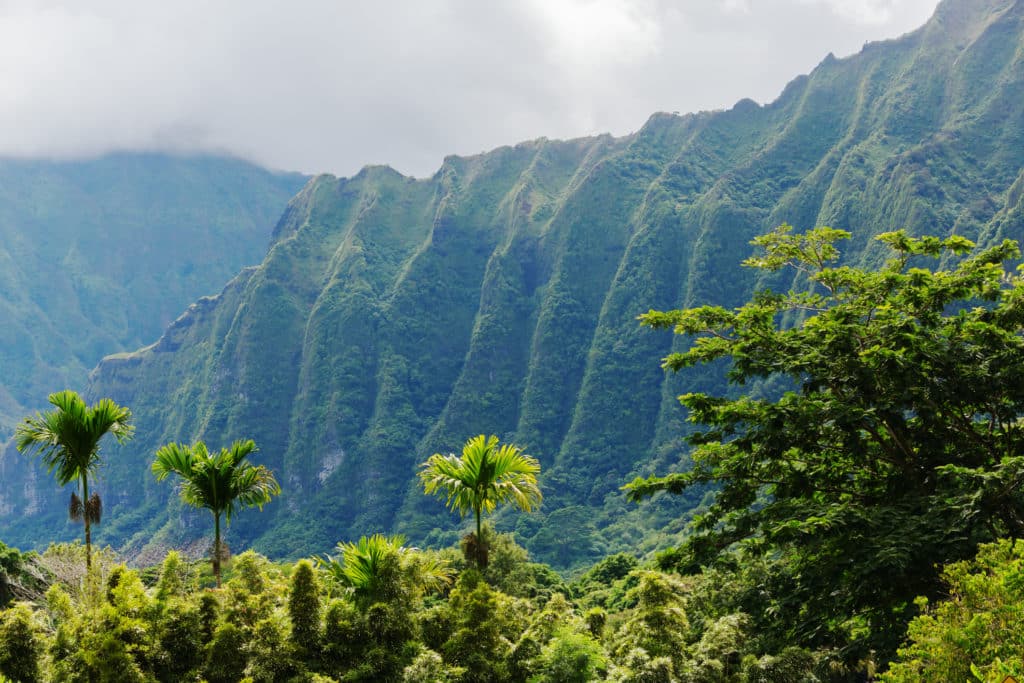 The cheery tinkling of stream water serenades my every step as I venture out of the veritable, viny forest into an expansive patch of rolling grasses. Inviting benches dot the loop and the cherry on top are several attractive bridges, including one that looks out on a glut of orange koi gliding gently, but en masse, under the glistening water's surface as though comprising one large entity.
I arrive full circle at the reservoir, which is teeming with families out fishing on this ideal weekend day in Hawaiʻi nei, and I can't believe my fortune to have had the trail all to myself. I most assuredly will be back to retread this day's adventurous steps.
TRAIL: Hoʻomaluhia Lake and Stream Trails
LENGTH: 1.5 miles total
HOW TO GET THERE: From Waikīkī, take H-1 West to Pali Highway exit. Take Pali Highway through the mountains and turn left onto Kamehameha Highway. Turn left at Luluku Road and drive until it dead-ends at Hoʻomaluhia Botanical Garden in Kāneʻohe.