As the vessel Kainani throttled into neutral, 3 miles off Haleiwa, torpedo-shaped shadows began to emerge from the cobalt blue abyss. Shadows all too familiar with the fear of the ocean and its denizens. Yet, for eight passengers aboard Kainani, the fear and anxiety quickly turned into excitement and cheerfulness. This is the consistent change of heart for nearly all passengers who embark on the shark-viewing tour with Hawaii Shark Encounters.
"Nervous," said Natasha Brolic, of Melbourne, Australia, prior to boarding Kainani. Like most aboard the tour, Brolic had never been in the water with sharks before.
"We've had 5-year-old girls in the cage before, you'll be just fine," said Captain Rich Whyte, skipper of the Kainani.
A 20-minute ride offshore takes passengers to the moored shark cage, which sits in about 700 feet of water. After a safety briefing by Capt. Whyte — frequently interrupted by cheers of "I see one!" and "There it is, there it is!" — passengers are led one by one over the side of the boat and into the cage for their face-to-face encounter with the sharks.
On this particular day, guests were treated to a dozen Galapagos sharks, ranging from 6 to 9 feet in length.
"They're naturally curious animals, and will come right up to the surface and to the cage to check you out; it's quite exciting," said Steve Jordan, owner of Hawaii Shark Encounters.
Jordan has been at the helm of the company for more than two years, and his staff makes sure to emphasize the ecological importance of sharks, not just in Hawaiian waters, but the around the world.
"A healthy ocean needs sharks," Jordan said.
After 30 minutes in the cage, passengers switch out with another group and warm themselves on the deck of the Kainani as newly branded shark divers. Crew members talk about the different species of shark found in Hawaiian waters. First Mate Darrin Whittaker passes around a variety of shark teeth, with some fossilized.
"Never buy unfossilized shark teeth, because chances are, the shark was killed on purpose in order to get that tooth," he said.
Shark conservation is the major theme for Hawaii Shark Encounters.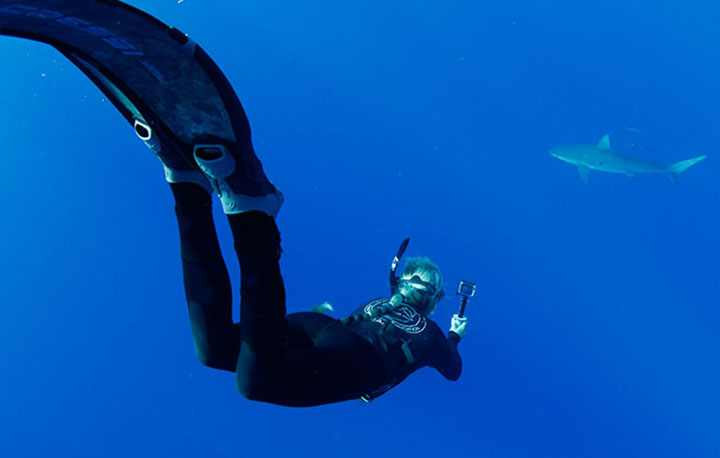 "The more people are informed about sharks through their experience being with them, the better off the sharks are," Jordan said.
Tour groups encounter various other types of marine life seasonally.
"We get humpback whales during the winter and spring months, and it's common to see spinner dolphins as well," Jordan said.
Hawaii Shark Encounters takes passengers out four times a day, weather and sea conditions permitting, and the tours last a couple of hours.
After getting back to the dock, Brolic couldn't stop smiling about her experience. "Everybody's got such a fear of sharks, but once you're in the water with them and see how graceful they are and how peaceful they are, it certainly changes your mind," she said.
IF YOU GO…
HAWAII SHARK ENCOUNTERS
(808) 351-9373
Haleiwa Boat Harbor
66-105 Haleiwa Road
Haleiwa, HI 96712
hawaiisharkencounters.com
reservations@hawaiisharkencounters.com
Tours are conducted daily, weather and sea conditions permitting, 6:30 a.m., 8:30 a.m., 10:30 a.m., and 12:30 p.m.
Reservations are recommended.
Cost is $115.50 for adults & $82.50 for children 12 years old and under. Boat riders are welcome and encouraged at$93.50 a person.
• Scuba experience is not necessary — all shark viewers are provided a snorkel and mask as well as a hot, fresh water shower onboard.
• Motion sickness medication is recommended from 4-12 hours prior to setting sail.
• GoPro underwater cameras are available for rent.
Story by Jamm Aquino courtesy of Honolulu Star-Advertiser.