Hiking Maunawili Trail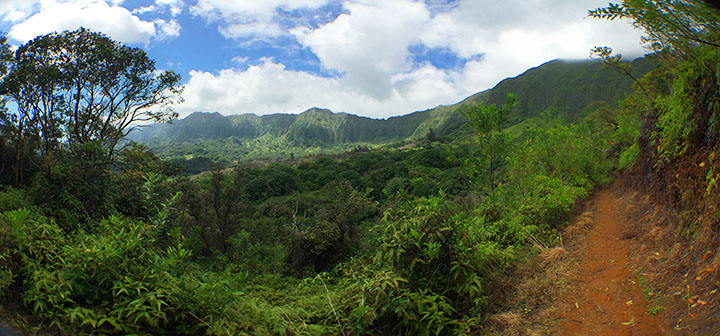 Of all of the beckoning forest paths Oahu boasts, the Obamas garnered plenty of publicity for Maunawili Trail by taking their leisurely family stroll along its arching trail. Of the four access points, my favorite is just off the Pali Highway, as it's the fastest way to inject oneself instantly into the thick of the adventure. From the small lookout point parking area, the trailhead is to the right. Once on the path, veer left and down (to the right is a trail leading up to the Pali Lookout). Stairs built from rocks lead to a small, boulder-strewn stream. Just past the stream is a picturesque wooden walkway, keeping traveler's precious hiking shoes mud-free.
From the shaded canopy, emerge to a rustically attractive water tank and an expansive view that stretches out toward Kailua. This is the first of myriad gorgeous lookout points along the 10-mile trail. The best aspect of this trail is its gentle slopes, so that it's easy on the legs and doesn't have the steep roller coaster climbs that mark most of Oahu's mountain treks.
It's shady, it's fairly flat, but 10 miles is a doozy. Some people park a car in Waimanalo, as that's where the trail ends. Others go as far as they like and then turn back to their car. But many who visit this area are long-distance forest runners. Just when you think you're on a serene stretch with nothing but birdsong and breezes to keep you company, suddenly a whoosh of activity comes dashing around the corner — a runner clocking in some endurance training.
Hillsides of uluhe fern are alluring, but in stretches where they encroach upon the path, they're downright brutal, like a cluster of claws scratching at your shins. Best to have a high pair of socks or some light pants at the ready. If, like myself, you just charge through, expect to emerge looking as though your legs have been subjected to medieval lashings.
The path curves in a giant, ribbony arch along the base of the Koolaus, so that it rounds each mountain spine, emerging at an overlook, before leaning back in on itself, toward the mountain and meeting a stream, or not least, a tunnel of shade.
The end is near once you arrive at the Maunawili Falls Connector Trail, which cuts left, along a perpendicular ridge to the famous, overly trodden falls. For tranquility's sake, keep going along Maunawili Trail proper until you arrive at a wide, shaded trail, oft visited by horseback riders, that descends to quiet Waikupanaha Street in backcountry Waimanalo. It's a full day's hike that'll leave you aching for Waimanalo's silky waves. If you've parked a car in Waimanalo, the good news is those beckoning sea waters are just a stone's throw away.
TRAIL: Hiking Maunawili Trail

LENGTH: 10 miles
HOW TO GET THERE: From Waikiki, get on H1 West and get off at the Pali Highway exit. Follow the Pali (61) through the tunnels. Just after the tunnels is a hairpin turn heading left. On the right, at the tip of the turn, is a parking lot/overlook area (secure valuables in trunk). The marked trailhead begins to the right.
Vaccinated travelers can bypass Hawaii's quarantine beginning July 8. Click
HERE
to learn more.
Vacations
Hotels
Rental Cars
Flights
Cruises
Most Popular in Oahu Things to Do
What's New?