There are some things on Maui that never change, like the fiery beauty of a Haleakala sunrise or the trade winds on summer afternoons.
Then there's the Maui restaurant scene, where seemingly the only constant is change — oftentimes for the better. While it's always hard to see your favorite restaurant close its doors, there's an excitement surrounding the chance to try out someplace different and new.
Here's a roundup of some of the best new Maui restaurants over the past few years that are now local favorites.
1. Shearwater Tavern
Many of the best new restaurants on Maui have sprung up in Kihei and Wailea, where the level of cuisine can range from food trucks to some of the world's top chefs. Shearwater Tavern made an instant splash when it opened in December 2016 in Kihei's Azeka Shopping Center. The comfy, laidback gastropub is run by the D.K. Restaurant Group — the same people responsible for Sansei in Kihei and Kapalua. There's a large selection of craft beers and filling, creative cuisine, and the price point is more affordable than what you'll find in nearby Wailea.
2. Fork and Salad
While Shearwater Tavern is a great choice for dinner, Fork and Salad, located next door, is the place to go for a healthy lunch of freshly made sandwiches and salads. The fresh produce is sourced here on island, and the restaurant's mission is to bring farm-to-table dining to the casual lunchtime crowd. Considering it's run by the same chefs behind Three's Bar and Grill, it's little wonder that the healthy options have become an instant hit.
3. The Pint and Cork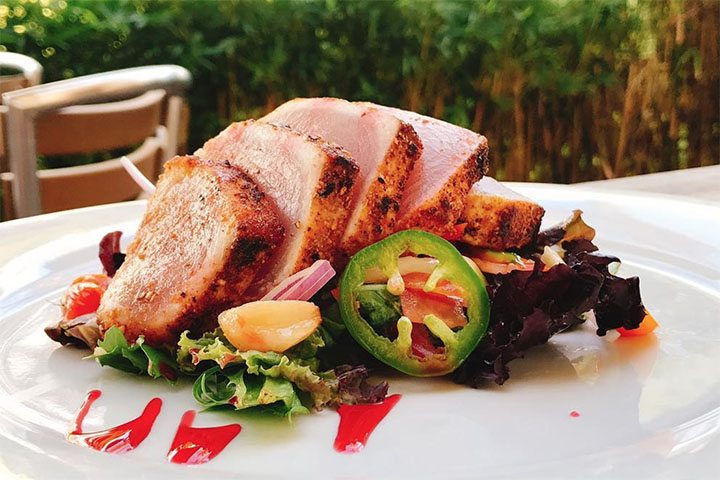 A little bit further south in Wailea, another gastropub, The Pint and Cork, serves food until midnight for anyone looking for late night food in Wailea. The sports on TV and craft beers on tap help make it a popular gathering place for visitors and South Maui locals, and it's carved out a classy but casual niche since opening in 2016.
4. Humble Market Kitchin
Just across the parking lot at the Marriott Wailea Beach Resort, Humble Market Kitchin is the latest brainchild of famed chef, Roy Yamuguchi. Specializing in breakfast and dinner, the restaurant stays true to its island roots with loco moco in the morning, and fancies it up with ribeyes and butterfish at night when the sun goes down.
5. Maui Teriyaki Company
For a casual South Maui meal that's friendly for families as well as your wallet, Maui Teriyaki Company is located inside the Dolphin Plaza and across from Kamaole II beach. Most plates are under $10 and it makes for a casual, flavorful meal of teriyaki chicken or pork.
6. Baya Bowls
An affordable newcomer to Lahaina is the popular Baya Bowls food truck, which you'll find parked on Waine'e Street just a three-minute walk from Front Street. The healthy selection of acai bowls is a hit with the local beach community, as is the cold brewed coffee that serves as the perfect party-town pick me up.
7. Alchemy Maui
For another healthy Lahaina option that's opened within the last year, Alchemy Maui is a located a bit off the well worn visitor track, but the menu of sandwiches and tangy kombucha makes up for the industrial setting.
8. Mauka Makai
For the latest installment of Hawaiian Regional cuisine in Ka'anapali, Mauka Makai is the signature restaurant of the Westin Nanea Villas, and features a menu of dishes sourced from the mountain slopes (mauka) down toward the sea (makai).
9. Paia Bowls
Finally, if you're traveling outside of the "tourist zones," Paia Bowls has rapidly become a healthy North Shore favorite, thanks to the colorful acai bowls stacked high with nutritious ingredients.
10. Nylos
If you find yourself on the North Shore by night, the recently opened Nylos restaurant brings fine dining to funky Paia with three course dinners plus wine.
11. Acevedo's Hawaicano
Or, if you're simply looking for Mexican food with a local Hawaiian twist, Acevedo's Hawaicano is a classic, family owned hole in the wall that's conveniently located just five minutes from Kahului Airport. The industrial setting is the absolute antithesis of oceanfront dining on Maui, but the portions are huge, the taste is authentic, and it sometimes sells out by mid-afternoon—which means they're doing something right.
See also: Best New Restaurants on Maui 2016