Top 10 Reasons to Visit Kauai, The Garden Island
Kaua'i is the epitome of paradise and is bound to make your tropical dreams come true. If that isn't enough to want to explore the Garden Isle, here are 10 more reasons to drop what you're doing and escape to this beautiful island in the middle of the Pacific.
1) Natural Beauty
The Garden Island is the most undeveloped of the main Hawaiian Islands besides Lana'i and Moloka'i. Because of this, there is still so much natural beauty to behold from lush forests and mountains to white, sandy beaches.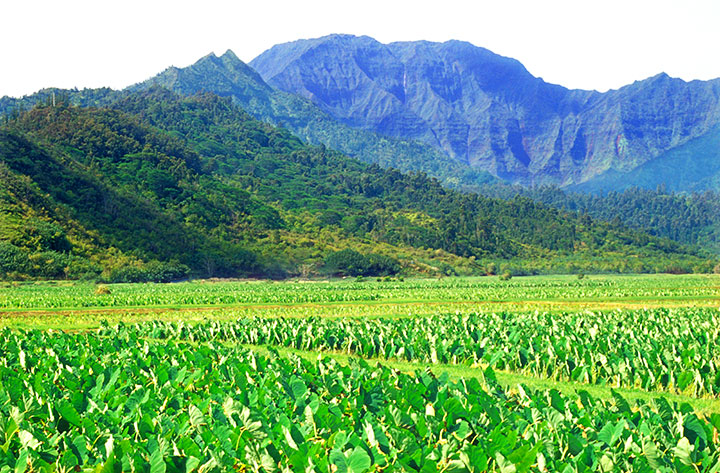 2) Na Pali Coast
This alone is why so many choose to visit Kaua'i. This stretch of valleys and cliffs (pali), sea caves and exclusive beaches, wraps around the northwestern portion of the island and is only accessible by booking a boat tour, hiking the Kalalau Trail or taking a flight on a helicopter.
3) Koke'e State Park
Waimea Canyon, the Grand Canyon of the Pacific, is a visual treat that is full of gorgeous scenery including Kalalau Valley. Koke'e and Waimea State Parks have vistas and hikes that abound and are unlike anything you will find elsewhere.
4) Beaches
Miles of magnificent beaches surround the island, many of which are world-renowned like Hanalei Bay on the North Shore and Polihale on the Westside.
5) Water activities
For water sports enthusiasts, this is the place to be. People can indulge in any number of activities from surfing, Kaua'i where many of the pros come from, and kayaking to snorkeling and scuba diving.
6) Hiking
Because the Garden Island is still so natural, there are many hiking trails that traverse the island that are full of tropical wilderness. There are paths to keep outdoor enthusiasts from novice to experienced, happy.
7) Fewer crowds
It doesn't ever get too crowded on Kaua'i. The year-round population is around 70,000 and yet the island is the same size as O'ahu which has nearly one million people. If you pick the right time of day, you could be sitting on a beach or meandering on a hike and not see a single person.
8) Fresh tropical fruits
Visitors can feast on locally-grown fruits that are explosions of sweet flavor. At almost every turn, there is a farmer's market, fruit or smoothie stand with produce that is hard to find anywhere else like apple bananas, mangos, papayas and pineapples.
9) Native plant and wildlife
Fewer people and less development also mean more native Hawaiian flora and fauna. Some avian and plant species are only found on Kaua'i and several are endemic to the island that can still be readily seen.
10) Relaxation
This is the ideal place to come for a little rest and relaxation; whether it's on a beachside hammock with a mai tai or on a mountain top with a picnic, Kaua'i is the place to be.
Find out how to upload your vaccination card before traveling to Hawaii. Click
HERE
to learn more.
Vacations
Hotels
Rental Cars
Flights
Cruises
User Info and Leaderboard
Most Popular in Blog
What's New?