Hawaii's Big Island boasts larger than life luxury resorts, each equipped with every amenity imaginable for one to completely immerse themselves in this idyllic paradise. Gathered here is a handful of the best Big Island hotels. These are the most indulgent resort retreats, each ranked at 3-5 stars, and offering an elite collection based on the sought after criteria of desirous location, impeccable services, and endless sophistication and style.
Mauna Lani Bay Hotel and Bungalows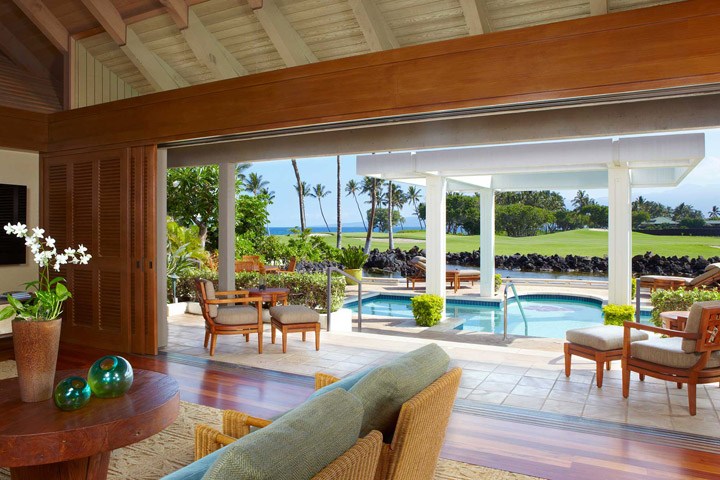 Located on the golden Kohala Coast is Mauna Lani Bay Hotel and Bungalows, where visitors may avail themselves of magnificent services, as well as its onsite Mauna Lani Spa and famed Francis H I'i. Brown golf courses. Accommodations here feature 318 guest rooms, suites and bungalows with private lanais and a host of other heavenly inclusions. And for dining? The Bay Terrace, poolside Ocean Bar & Grill and the oceanfront Canoe House will keep all full and satisfied.
Mauna Kea Beach Hotel
Yet another magical destination is the exclusive Mauna Kea Beach Hotel. Created over 50 years ago by visionary Laurance S. Rockefeller, its legendary golf course complies with current USGA regulations, the dining is to die for, and its 225 gorgeous guest rooms will get your Hawaii vacation off to an amazing start. The resort's Mauna Kea Spa by Mandara is definitely worth a mention as well.
Hapuna Beach Hotel
Heaven awaits at Hapuna Beach Hotel, a resort right on the Kohala Coast and also a part of Rockefeller's creation, the Mauna Kea Resort, which shares 1,839 acres of its oceanfront oasis—including world famous Hapuna Beach. Enjoy your stay in any of the 350 guest rooms or oceanfront suites, and let your cares melt away.
Four Seasons Resort Hualalai
Another winner among Big Island hotels is the famed Four Seasons Resort Hualalai at Historic Kaʻupulehu, located in Kailua-Kona is a 5-star resort boasting 243 stellar suites, each with private lanais, onsite spa, dining, golf course, and other impressive deluxe amenities.
The Fairmont Orchid
Fans of the good life need look no further than The Fairmont Orchid, a luxurious resort situated on the stunning Kohala Coast. Spanning a vast 32-acre oceanfront property, the elegant resort offers guests a full-service spa, six onsite gourmet restaurants, tennis facilities, golf course, and more. There is even a lovely white-sand lagoon to languish away your carefree vacation days.
Hilton Waikoloa Village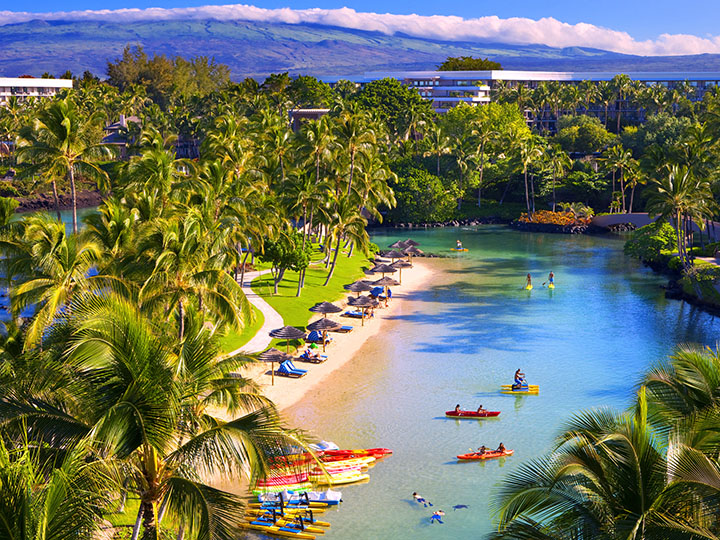 Heading to Hilton Waikoloa Village is also an excellent option. The expansive 4-star resort features 1,241 air-conditioned rooms with private lanais, a full-service spa to relax and rejuvenate you during your stay, golf course, and near endless dining options.
Waikoloa Beach Marriott Resort & Spa
Relaxation is the word when it comes to Waikoloa Beach Marriott Resort & Spa, the luxury resort where you can bask in the beauty of the surrounding Kohala Coast and beaches, as well as enjoy its stunning guest suites, spa, golf course, fitness center and primo pool facilities.
Sheraton Kona Resort & Spa
Another sure bet is the Sheraton Kona Resort & Spa, situated at Keauhou Bay. The recently renovated resort offers unique oceanfront accommodations, beautiful surroundings, and an escape at onsite Hoʻola Spa, where a healing Himalayan Salt Room and oceanfront treatment patio await!
See also: Best Oahu Hotels, Best Kauai Hotels, and Best Maui Hotels.