Hale'iwa Arts Festival
Fourteenth Annual Summer ArtFest
By John Johnson / Special to Hawaii.com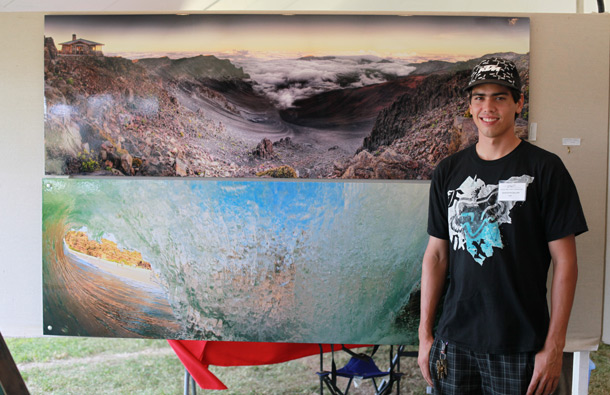 The Hale'iwa Arts Festival Fourteenth Annual Summer ArtFest was held Saturday and Sunday, July 16-17, 2011 at Hale'iwa Beach Park in Historic Hale'iwa Town on the North Shore
of Oahu.
This free festival featured 140 juried visual artists, both traditional and contemporary, in oil, acrylic, ceramic, photography, sculpture, watercolor, fabric, and jewelry and glass. In addition to visual artists, there were also performance artists, cultural history tours, art demonstrations, various hands-on children's activities, and plenty of food booths from local businesses.
For more information, see the Hale'iwa Arts Festival home page:
http://www.haleiwaartsfestival.org/
Articles Related to This One
Hot Clicks - All Islands
Over 35 Oahu attractions & activities, 1 LOW PRICE! Save up to 55% now!

Save up to 40% plus complimentary breakfast at Starwood Resorts in Hawaii!

$525+ Hawaii Winter Vacation Sale: 3 nights with air!

Meet a Dolphin Face-to-Face with Dolphin Quest Hawaii

Royal Experience Package at Royal Kona Resort from $229/nt
Current Specials - Oahu
From $525 – Waikiki / Oahu Vacations: 3 nights w/air and FREE one-category Hertz Rental Upgrade

Aqua Lotus, incl. evening wine service, cruiser bikes, yoga, and more - $199

Make some new friends at Dolphin Quest Hawaii or Oahu

Discount Hawaii Car Rental - Jeeps, exotic cars, motorcycles, and more!

Hawaiian Sand & Surf Package - make the most of the water!

Surf-inspired budget boutique hotel with free breakfast, Aqua Aloha Surf Waikiki - $96

From $1,675 - Big Island + Kauai + Maui Island Hopping Trip: 9 Nights Incl. Air, Transfers, Hotels, Breakfast & Taxes

$835+ Outrigger Waikiki on the Beach: 3 nights w/Air & Hertz Rental Upgrade. FREE internet access, NO Resort Fees PLUS Kids 17 & younger stay FREE!

Hawaii Adventure Pass - make the most of the sun & sand with this package.

Save up to 40% plus complimentary breakfast at Starwood Resorts in Hawaii!
More of our Current Specials on Oahu
Hawaiian Airlines: Special Offers