41st Annual Ukulele Festival
Friday, July 8, 2011
By Caroline Wright
The mellow sound of the ukulele can evoke paradise almost instantly.
With just a few languid notes, it's easy to summon blissful scenes of emerald waters against white sand, gently swaying palms, and a sun-kissed
sense of well-being.
In the hands of growing numbers of talented, inventive musicians, the little guitar, introduced in the islands in 1879 by Portuguese cabinetmakers, has evolved as a dynamic, versatile instrument that can add excitement to almost any genre or style.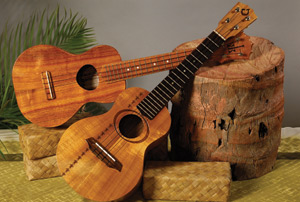 EVENT DETAILS
Date(s)/Time: Sunday, July 17, 2011, 9:00 am - 2:30
Location: Kapiolani Park Bandstand in Waikiki, Oahu
Contact: Roy or Kathy Sakuma, 732-3739
Cost: FREE Duration: One day, five and a half hours
Who Will Love This: Families, ukulele and guitar music lovers
Website: www.ukulelefestivalhawaii.org
A world-class assembly of ukulele artists will perform at the 41st ANNUAL UKULELE FESTIVAL on Sunday, July 17, 2011, at Kapiolani Park Bandstand in Waikiki, Oahu. The event is free, family-friendly, and filled with musical and other treats.
This year's festival kicks off at 9:00 a.m. with a very special performance by Roy Sakuma & Danny Kaleikini. More than five hours of music will follow, including appearances by renowned local ukulele artists Herb "Ohta-san" Ohta, Ho`okena, and Nick Acosta.
Also featured will be Italian virtuoso Jontom, the Australian ensemble Ukastle Ukestra, Yuji Igarashi & "Kolohe" Imamura from Japan, famed Taiwanese artist Singto Namchok, and American ukelele sensation Victoria Vox. The Sunset Strummers, a mostly-senior group, are back by popular demand.
Some of the instrument's top luthiers and craftsmen will be present. On-the-spot lessons will be available for players at all skill levels.
Families will want to check out event founder Roy Sakuma's 700? Ukelele Ensemble, as well as appearances by the Wipeout Children's Group, Keiki Ukulele Children's Group, and Crusader Children's Group. Tasty treats, including some ono local favorites, will be available from Leonard's Malasadas, K Korean BBQ, Time 2 Grind, Taste of the Wild!, Kiani's Da Original Guava Chicken, Jamba Juice, Dippin Dots, Panda Express. Free shuttle service will be available from Kapiolani Community College all day.
The festival's official music schedule will end with a performance by electrifying, internationally renowned ukulele virtuoso Jake Shimabukuro. It's a perfect way to end a celebration of the little guitar that has given the world so much pleasure.
Check back on our site for scenes from the event.
Articles Related to This One
Current Specials - Oahu
Aqua Lotus, incl. evening wine service, cruiser bikes, yoga, and more - $199

Exceptionally spacious rooms in Central Waikiki at Aqua Waikiki Pearl - $97

From $1,175 - Oahu Hyatt Hotel 5-Night Vacation w/Airfare, Hyatt Hotel Stay, Breakfast & Taxes

From $1,189 - 8 Nt. Oahu & Kauai Vacation w/Air, Hotel, Transfer & Taxes

Get a bird's eye view of Diamond Head Crater. Oahu helicopter tours from $205

Touch, Swim with, and even Kiss a Dolphin!

Aqua Queen Kapiolani Hotel, adjacent to Waikiki Aquarium, Kapiolani Park, & Honolulu Zoo

$819+ Moana Surfrider, A Westin Resort & Spa: 3 nights w/air and FREE Hertz Rental Upgrade PLUS complimentary lei & tropical punch upon arrival.

Surf-inspired budget boutique hotel with free breakfast, Aqua Aloha Surf Waikiki - $96

You must do a LUAU! Fire knife dancers, hula dancers, mai tais, lots of food, and more! Pick one here.
More of our Current Specials on Oahu
Hawaiian Airlines: Special Offers
Hot Clicks - All Islands
$539+ Hawaii Winter Vacation Sale: 3 nights with air!

Over 35 Oahu attractions & activities, 1 LOW PRICE! Save up to 55% now!

Kaanapali Beach Hotel - 4-night Romance Package just $1709

Save up to 40% plus complimentary breakfast at Starwood Resorts in Hawaii!

Na Pali Coast, Waimea Canyon, and 'Jurassic Park Falls' views with Blue Hawaiian Helicopters!